Wardrobe Wonders
"Forget Brad and Jennifer! Matthew Crane and Robin Christopher are bona fide celebrity fashionistas...."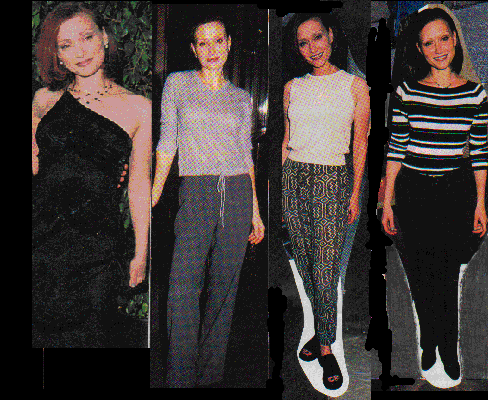 ROBIN SAYS...
Comparing Skye's and her own styles...
"Its funny when you're on a soap every day and in heels and dressed up. When I come to work I look like a slob. It's the California, wear-seat-pants-to-work thing. Ingo (Rademacher, Jax) and I are the fastest changers in the world. When we're done with a scene, we're in our dressing rooms changing into our comfy clothes. I just have to be comfy. I'm probably more sporty, tailored, classic in my everyday life. Skye is much more upscale, elegant, a Dynasty kind of look."
---Soap Opera Weekly
"It's very different. I enjoy getting dressed up when I have to, but its a real backlash against what I do at work. I am so into comfortable shoes. I have to be. I do my yoga, but still, working in those heels all day, it kills me. I'm into casual funky-sporty clothes. I like more tailored kinds of things. I tend to buy things that, even if they're slightly trendy, they won't go out of style. If something is really trendy, I almost rebel against it. I can't get into it because I know it's not going to last.
---Soap Opera Digest
Regarding Skye's Wardrobe...
"They took all my clothes from One Life to Live and brought them here to General Hospital. I have a double wardrobe!" says a grateful Christopher, adding that her co-stars occasionally check out her clothes with wanting eyes. "I'll hear, 'Where did you get that?' And I say, 'New York.' It makes sense, though. I have a Chandler wardrobe and a Quartermaine wardrobe." Even some of Skye's jewelry has made it cross-country, including an earth-toned beaded ring that has an identity all its own. "This is The Skye Ring," she says flashing her finger. "Everybody is amazed with this ring. It's almost like one of those rings that you can make out of a kit. It's stretchy and it kind of hurts. I've worn it quite a few times on the show." She adds with a grin, "I even try to get it in shots."
---ABC Soaps in Depth

Beauty Q&A
What about your appearance do you think gives you character?
"Because I'm Italian, I tend to have a lot of darkness around my eyes. It used to be the bane of my existence when I was younger, but I've now come to see it as a sign of character and depth."
---ABC Soaps In Depth
Where do you tend to purchase most of your makeup?
"I try to search out the bargains. I really feel that there are some good products that you can get at your local drugstore that are just as good as what you can buy at Macy's."
---ABC Soaps in Depth
When do you feel your most beautiful?
"When I'm at hair with my hair pulled up, and Matt and I have just finished doing yoga, and I'm really relaxed and living in the moment. That's when I feel really vital and alive, and I think it shows in my face."
---Soap Opera Weekly
What is the key to inner beauty?

"Trying to live as honestly and simply as you possibly can-and to be happy."

When do you feel most beautiful?

"When I don't have a stitch of make-up on, and I've spent the whole day with Matt (Crane, her husband and former Another World co-star). I have a little glass of red wine, and I'm feeling really good."

What are your best and worst features?

"Call my mother!"

If you can change anything about yourself, what would it be?

"When I was a kid, I used to wish that I had darker skin because people used to tease me about how pale I was-but now I like it. Now, I wish my hair was straight naturally because there's a lot of time wasted straightening it!"

Do you have a specific diet and exercise regime?

"Matt and I try to do yoga together at least four times a week. I try not to eat a lot of processed food, and have a lot of fruits and veggies. I really believe in moderation as far as diet."

What is your skin-care routine?

"I never go to bed without moisturizer, and I drink a lot of water. I'm big on sunscreen, too."

Would you ever consider plastic surgery?

"I would actually. In this business, it's no secret that it's based on your looks."
---ABC Soaps in Depth
Robin's Favourites
Products: Framesi Bigenol hair products, Bumble and bumble Styling Was, Origins Constant Comforter, Prescriptives Px Comfort Cream, Nars Honolulu Honey lipstick, Chanel Glase blush
Diet: "Everything in moderation."

Exercise: Yoga.
Tip: "Don't drink red wine the night before a day when you need to look your best; it'll make your eyes look puffy."